SuiteCommerce web stores provide a Quick Order feature for shoppers who prefer to quickly search for and add multiple items to their cart. This feature is designed for merchants who allow catalog ordering or provide wholesale products on their site. Quick Order assists shoppers who are familiar with a merchant's catalog and wish to shop for items by Stock Keeping Unit (SKU), Part Number, or other identifier.
Shoppers can access the feature by clicking a link in the header or by entering their Cart and expanding the Quick Add accordion. Here, shoppers can quickly search for, add, and remove items. Shoppers can also adjust quantities in a list.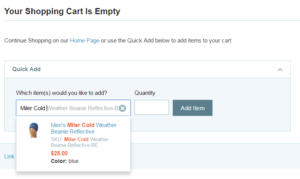 Additional Information about this Out of the Box Feature
Before setting up the Quick Order feature on your Commerce website, understand the following information:
This feature does not support subsidiaries.

Handling costs are not displayed in the summary total of the order, but they are added to the order total after the order becomes a purchase.

Parent matrix items cannot be added to a quick order, only specific child items.